Explora comes with some of the most amazing channel packages that ensure their customers get the best experience. Take DSTV Explora, for instance, when installed in your home it simply takes your TV viewing experience to another level. Based on customer feedback, this is one of the best services that come with digital TV. If you have been looking for DSTV Explora installers in Johannesburg, we are glad to inform you that we can help. We can install the Explora in your home, office, restaurant, or bar at very reasonable rates. Our professionals are always available to do installations in the city and its surrounding areas.

One of our strengths is in having a team of highly skilled and experienced technicians. These professionals have been offering Johannesburg residents quality DSTV Explora installation hence growing our reputation as one of the best service providers in the city. We seek to change your TV experience for the better, and our DSTV Explora installations are perfectly done, ensuring you can enjoy all the goodies that come with the Explora. A connection to the Internet further enhances the decoder's capabilities, allowing you to download whatever you want, and watch it later when you are free.
The Explora is no doubt one of the best TV decoders that you can ever find. Its ability to record programs and store them for later viewing is exciting. You can also record one program while watching another hence you can be sure to catch up on your favourite sports, movies, and TV shows. If your favourite program is airing during the week while you are at work, you can easily set the Explora to automatically record it hence you can play it at your convenience. We are proficient at HDTV and Explora installation, having supplied and installed these decoders to thousands of homes over the last couple of years. All our services come at very reasonable rates. We have built a great reputation as the ideal choice for DSTV solutions, and we endeavour to provide these solutions to all those that need them.

We have a great team of customer care that works round the clock to attend to customer queries.  If you need more information about Explora costs and set up, you can call us any time. Don't hesitate to get your DSTV Explora installation done at your Johannesburg home or commercial premises. Not only will you get flawless picture quality and excellent digital signal reception, but also access to a wide range of Multichoice channels. Call us and let us install it for you, and take your TV viewing experience to another level.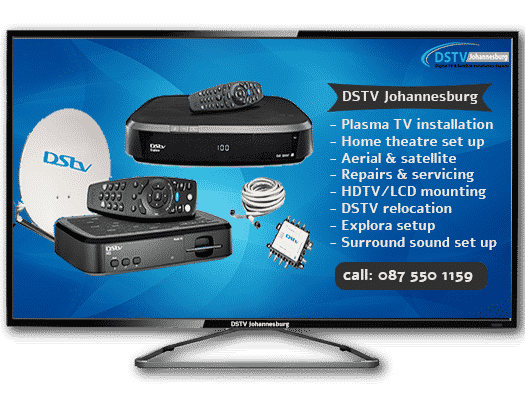 .